MLS week 18: Five things we learned
Montréal's first matches under Marco Schällibaum saw an opportunistic team leverage their prodigious experience to climb to the top of the Eastern Conference. Consolidating that position over the last three months, the Impact remain favorites to snare their conference's top seeding. Yet as Saturday's 4-3 upset loss at Stade Saputo illustrated, the team is not without obvious faults.
The formerly floundering Rapids were the perpetrators – and Oscar Pareja's side were winless since 25 May. Although Colorado struck first, through Atiba Harris on 24 minutes, a business-as-usual feel was re-established when Hassoun Camara equalized 14 minutes later. When a first Daniele Paponi goal gave Montréal the lead at intermission, it seemed the home team was buliding toward their expected victory. Yet with Harris on the right, Chris Klute blitzing forward from left-back and Deshorn Brown set to come on, Colorado had the personnel to exploit what was supposed to be Montréal's big weakness: a lack of speed and athleticism across the back.
After Paponi had struck again in the 72nd minute, restoring a lead Montréal had briefly given up, Colorado exploited those weaknesses. The Rapids' second came from a 77th-minute Klute cross to Brown. The final nail came in the 96th minute, with Klute leading a counter that ended with Tony Cascio's deflected, game-winning goal:
Colorado's success was a variation on the theme you heard last year, a path to success against Montréal that meant isolating the likes of Alessandro Nesta to beat one-on-one. The Rapids – fast and athletic by any standard – had too much for the Impact, leading to a surprising yet explicable result. After Saturday's shootout, the Impact have kept only one clean sheet in the last two months.
The prevailing question is what this tells us about Montréal, conference leaders who have yet to acquire a favorite's renown. Most of that is due to their thin franchise history, but Colorado's Saturday success plays into it. There is still a feeling that Montréal may come back to the pack.
The answer may be in Schällibaum's tactics. The Swiss boss has moved to a 4-4-2 formation, trying to get Paponi more time in the wake of Davy Arnaud's injury. Paponi's goal output speaks to the wisdom of switching from a 4-5-1, yet losing a man in midfield leaves that stolid backline further exposed.
There's no question that summer Montréal have less control of their matches than spring Montréal did on their ascent. Now Schällibaum needs to choose between pursuing his team's potential or reverting to spring's tried-and-true approach. RF
50,000 witness Goonies reprise
The did it again – to the delight of more than 50,000 at Stanford Stadium. The Never Say Die Goonies got two in second-half stoppage time to steal a 3-2 victory against the hated Los Angeles Galaxy. The 'Quakes won this way so often last year that it became a habit and you now expect the side to find some late-game magic, even given the struggles of this season. The two-goal return of Alan Gordon – a leader on the field and in the hair department, now that Steven Lenhart's locks are shorn – makes a massive difference. It was his arrival that altered the proceedings and he just makes things happen. It's remarkable, really. The question now: will the dramatic win spur the struggling squad, which signed national-team center-back Clarence Goodson and continues to get healthy, to better performances? Is a playoff push in the offing?
The Galaxy have issues on the road, where they have conceded a league-high 19 goals, but this team is easy on the eye. Witness the two goals, both wonderful works orchestrated by Landon Donovan and Robbie Keane. On the first, the American hit a delicate chip to his Irish team-mate, whose beautiful left-foot volley found a streaking Marcelo Sarvas. Not to be outdone, the midfielder hit it with the outside of his right foot, to beat Jon Busch. My word. The second was equally excellent, as another perfect pass from Donovan led to Keane sliding the ball across the six-yard box, where it found a streaking, wide open Hector Jimenez. While Bruce Arena's team gave it all back late – falling to 7-7-3, a position in which no one thought the super club would find itself – the attractive brand is there. Keane could have had five assists on the night, if only his team-mates could finish. Perhaps a call to Thierry Henry is in order? ND
The cloud is as important as the silver-lining
The realities of MLS's regular season caught up to Dallas ahead of Saturday's visit to Philadelphia. With one win in five going to PPL Park, the former Western Conference leaders had slipped to third, and with David Ferreira and George John missing, Hoops fans had reason to believe the team's struggles would continue.
John was left back in Texas nursing an injury, his exclusion reflecting the tough decisions Schellas Hyndman faces. Starting with Philadelphia, Dallas faced a taxing run of four matches in 16 days. At some point, a team has to consolidate – rest aging veterans, nurse injuries, swap out struggling players – and although the schedule wasn't complying, a road game against an Eastern Conference team was as good a time as any to regroup.
With Ferreira starting on the bench, Dallas were aimless in midfield, Philadelphia proving more dangerous though the teams trade goals before halftime. In the second half, misfortunate compounded Hyndman's headaches, with a debated simulation call on Je-Vaughn Watson leading to the midfielder's second yellow. After Aaron Wheeler's first goal gave Philadelphia a late 2-1 lead, an apparent equalizer from Blas Pérez was never credited, though replays showed Sheanon Williams was moments late clearing the potential equalizer:
But continuing the weekend's theme of stoppage-time heroics, Pérez would have his revenge, heading home a Ferreira flick from close range in the 97th minute, giving Dallas an improbable point. Defying selection concerns, sketchy reds, neglected goals and their own mediocre performance, Dallas had salvaged a point from the East's second-placed team.
The caveat about mediocre performance deserves the most attention, though. Just as Dallas could look at the point scrounged last week against Kansas City as a silver lining, there's more good to be done by examining the cloud. Without John, Dallas gave up what would have otherwise been two preventable goals – balls sent into the box begging for a player like John to devour. And while Ferreira rested for near an hour, Dallas's midfield highlighted their dependence on an aging star.
All teams have important players whose absence severely compromises the team's results, but Dallas's situation is more precarious than most. John, since coming into the league in 2009, has only made 67.3% of his potential starts, while a continued dependence on Ferreira belies the diminished impact the veteran has had since his stellar 2009 and 2010.
MLS's summer presents unique channels for every team, but for a formerly front-running Dallas, it's highlighting the team's limitation – a dependence on two stars who carry question marks. RF
Chivas USA show signs of improvement
Each Chivas home game gives us one lamentable shot of the sparsely filled StubHub Center – a reminder off the franchise's waning traction in LA Galaxy's market. Saturday was no different, with a field-level shot from a corner flag undermining the announced attendance of 7,319. Still, after protests in the skies above Carson detracted from last week's SuperClasico, questions around Chivas's dwindling attendance may have been a refreshing return to normalcy.
Then, as Chivas were en route to a 1-0 loss, a solitary plane carried the fan's protest – a symbol of the depths to which onlookers have been frustrated by the team's ownership. Drawing the attention of announcers unable to decipher the scrawling display, a large LED board read "FUERA VERGARA #VERGARAOUT" – asking for the removal of the team's principle-driven owner.
One week later, however, things are looking up for the Goats, even if that optimism is relative to the 11 points in 15 games they carried into Saturday's game against New England. Gone is the three-man defense and overloaded midfield José Luis Sánchez Solá played before his dismissal, which left Chivas reliant on annoyance and opportunism. José Luis Real has instilled a conventional 4-2-3-1, and it executed a relatively cogent plan.
With play from Marco Delgado and Carlos Alvarez in the middle, Chivas were able to neutralize New England's midfield talents, applying pressure before the visitors could reach Lee Nguyen and Kellen Rowe, disrupting their buildup. Targetting Ryan Guy, filling in for Andrew Farrell at right-back, Chivas had early success through the left wing Jorge Villafaña, and although their go-ahead goal saw the since-departed Laurent Courtois aided by a Chris Tierney deflection, Chivas were the better side over the first 45 minutes.
Perhaps their insecurities got the better of them in the second half, when they became much more passive. Attackers unaccustomed to holding the ball lacked ideas in the final third, in a way justifying Real's conservatism. Regardless, in the minutes leading up to Chad Barrett's 88th-minute equalizer, Chivas had firmly embraced their bunker, becoming accomplices in their 1-1 draw.
In its entirety, the game still represented progress, though, and with news after the match that 20-year-old striker Erick "Cubo" Torres could be joining the Goats on loan from Guadalajara, there is some minor hope for Chivas. Future performances may give their fans good soccer rather than the 90 minutes of frustration that closed out the Chelís experiment. RF
Never mind the score – Sporting blew past Columbus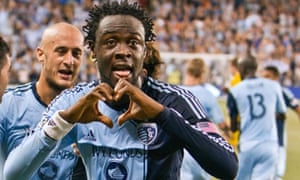 The scoreline read 3-2. Everything else about the match between Sporting Kanas City and the indicated a much more lopsided affair. You want numbers? How about 24 shots against eight and a 62%-38% possession advantage for Peter Vermes' team, who are slowly and surely rounding into form. While the victory was SKC's first in five matches, they sit in fourth place and their coach boasts an impressive arsenal of attacking options. CJ Sapong suspended? No worries. Bring Soony Saad off the bench for his second start of the season and watch him deliver a pinpoint ball to Kei Kamara for the game's first goal. And can we talk about the play of the man who returned from Norwich City? That touch to bring down Saad's ball … and the elegant second one to finish past Andy Gruenebaum … his first brace for Sporting since 24 July 2011. The team isn't scary good, but it's not hard to see how it could become so very quickly. We haven't even mentioned the sublime Claudio Bieler, whose half-volley goal was something only a handful of MLS-ers could even dream of, or Graham Zusi, who simply continues to improve. Also, paging Teal Bunbury … your super-sub role is ready and waiting. It's an embarrassment of riches in the middle of the country.
If there's a worry for SKC, it's the backline that needs to be more consistent. Matt Besler – make that United States national-team starter Matt Besler – showed some awfully soft defending on one of the Crew's goals and he never looked entirely in synch with the dapper Frenchman Aurélien Collin. Time – or next week – will tell if that was rust from being away for so long or something more. Lean toward the former, as SKC has only conceded 15 goals on the year.
As for the Crew, what can you say beyond "good job, good effort"? Give the club credit for twice coming back to tie the tilt, but it wasn't enough. It was never going to be. Gruenebaum kept the match closer than it had any right to be and both Jairo Arrieta and Dominic Oduro's goals were on the lucky side of the equation. The Crew sits just three points out of the final Eastern Conference playoff spot and could make a push in the second half of the season, but it's hard to see Robert Warzycha getting much more out of his boys … 2014, anyone? ND